The Japanese Delicacy (II): Okonomi Yaki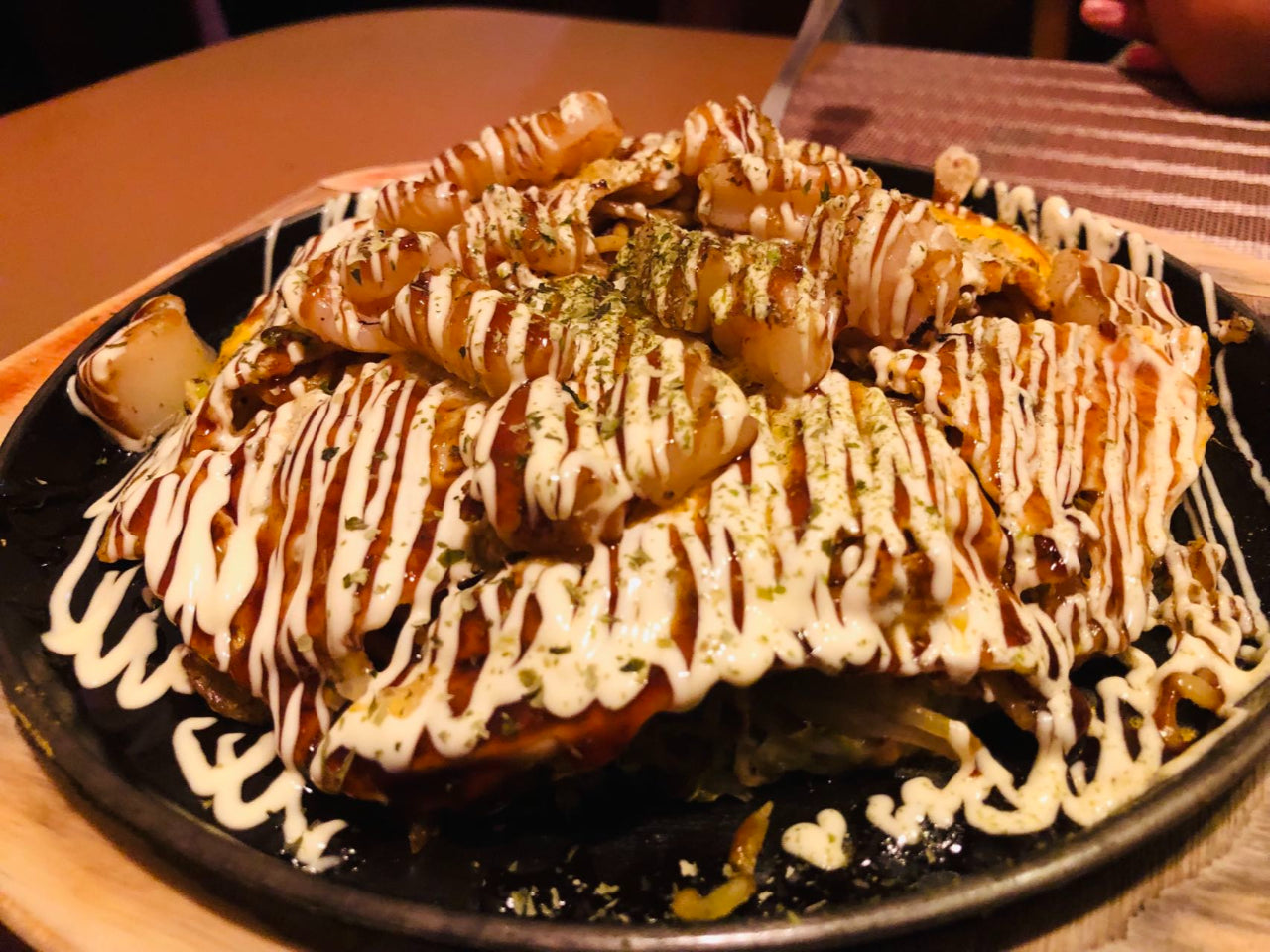 Okonomi Yaki is a Japanese savory pancake. In Japanese, "Okonomi" means "as you like" or "how you like" and "Yaki" means "grilled". According to its name, Okonomi Yaki is more like a pizza than a pancake, in which you can put any ingredients you like. The base of Okonomi Yaki is made of flour, water, egg, and shredded cabbage. The optional additions include pork, seafood, dairy products, veggies, and so forth. It will be cooked on a gridle plate until both sides are golden and crispy.
History of Okonomi Yaki
According to tea master Sen no Rikyū, the earliest origin of Okonomi Yaki date back to the Edo period (1603-1868CE). Funoyaki, the crepe-like confection was the early precursor of Okonomi Yaki. When the time came to the Meiji era (1868-1912CE), Funoyaki evolved into Sukesoyaki, which is a sweet confection.
Okonomiyaki was invented before World War II and became popular during and after the war. The name Okonomiyaki started at a shop in Osaka in the 1930s. People lacked amenities due to the 1923 Great Kantō earthquake, which catalyzed Okonomiyaki which only need a simple cook method. During World War II, Okonomiyaki became more popular because there was a scarce of rice became scarce. The Japanese had to be creative in replacing rice with available ingredients, such as meat and seafood.
Variations of Okonomi Yaki
There are two main different types of Okonomiyaki: Kansai style and Hiroshima-style. Kansai-style Okonomi Yaki will mix all ingredients, including flour batter and additions before cooking, while Hiroshima-style Okonomi Yaki will cook the batter and ingredients separately and assemble them together later. Besides these two tasteful variations, similar dishes can be found throughout Japan.
Kansai-style OkonomiYaki: Kansai-style Okonomiyaki dominates most parts of Japan. Its batter is made of flour, grated yam, broth or water, eggs, and shredded cabbage. There are various ingredients can be added to the batter, such as meat (pork belly, bacon, etc.), seafood (octopus, squid, shrimp, etc.), vegetables (green onion, mushroom, carrot, etc.), cheese, and mochi. The mixture of batter and other ingredients is pan-fried on an iron grill plate with metal spatulas. Okonomi Yaki is often enjoyed with sauces and toppings, such as okonomiyaki sauce, mayonnaise, seaweed flakes, bonito flakes, and pickled ginger.
Hiroshima-style OkonomiYaki: With more than 2,000 Okonomi Yaki restaurants, Hiroshima has the highest density of these restaurants in Japan. Its ingredients are similar to that of Kansai-style Okonomi Yaki save the cabbage amount and noodles. Hiroshima-style Okonomi Yaki uses more cabbage than the Kansai style and adds Yakisoba/Udon as an ingredient. Different from the Kansai style, the ingredients are cooked separately and layered. The layers include batter, cabbage, pork, and noodles.
SukesoYaki: It's the modern version of the Sukeso Yaki in the Meiji era and is easy to find in Tokyo. Its ingredients and cook method are all similar to Kansai-style Okonomi Yaki. However, it's more fluid and soft because extra broth or water is added to its batter.
Recipe of Okonomi Yaki
Because Hiroshima-style Okonomi Yaki is made with layers of separate ingredients, it is difficult to cook and is often cooked by cooks in the restaurant. Compared with that, Okonomi Yaki and Sukesoyaki are easier to cook. Therefore, customers often cook their own foods and enjoy the fun of DIY. However, it's ok to ask the restaurant whether they can serve you cooked food if you don't feel in the mood to cook by yourself. If you enjoy learning to cook your own Okonomi Yaki, here's a brief instruction for you.
Choose ingredients and mix them in a bowl with the batter.
Apply oil to the iron grill and pour the mixture on it. Use two spatulas to shape the batter into a circle.
Flip it to the other side when one side is cooked.
Add sauces and toppings to it after both sides are cooked. The sequence is Okonomi Yaki Sauce, Mayonnaise, bonito flakes, and dried seaweed flakes.
Chop it into pieces with the spatulas and enjoy your Okonomi Yaki!