Tokyo vs. Osaka: Which City Suits You Better?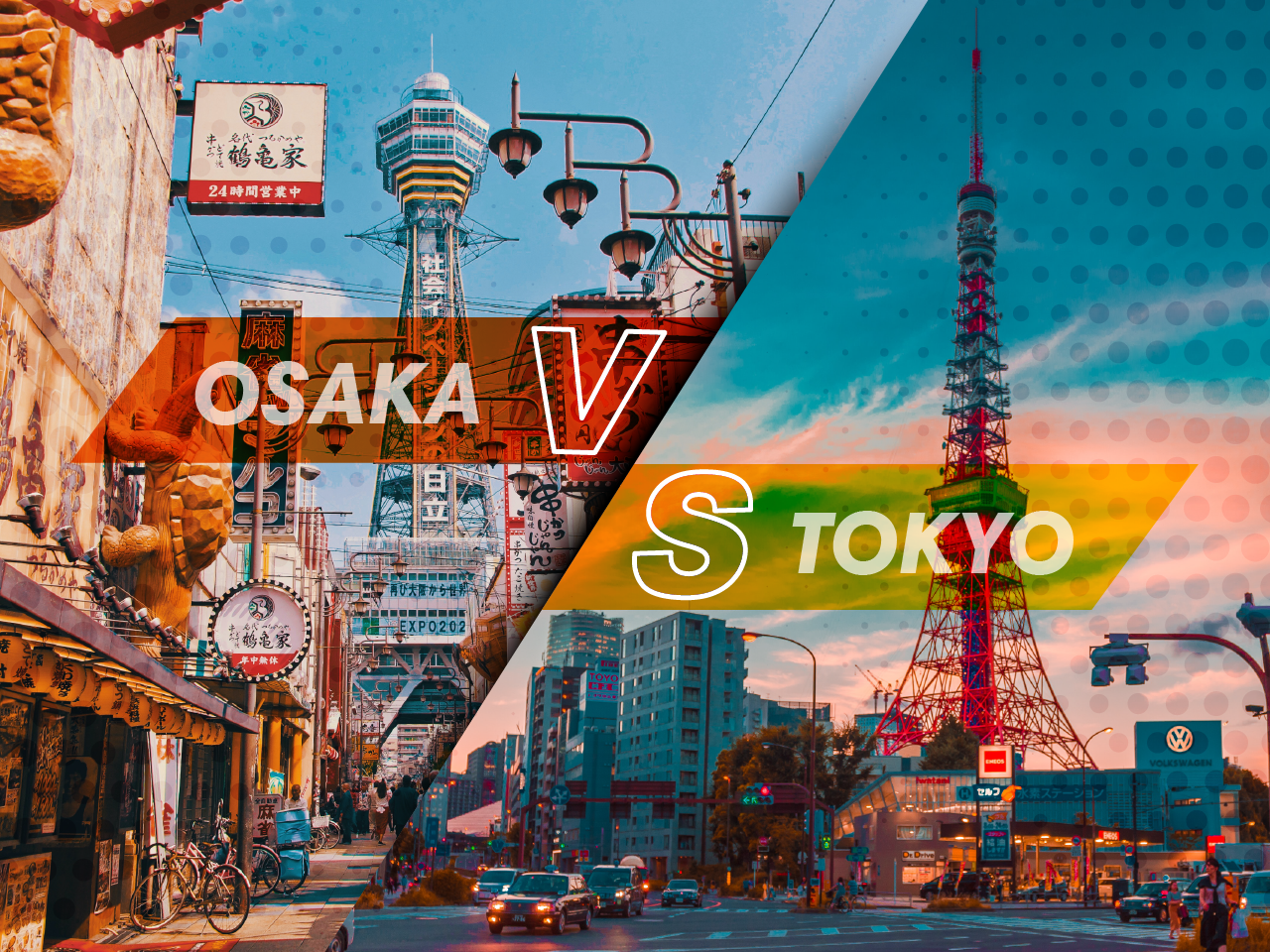 The Economist Intelligence Unit (EIU) has recently released its 2023 rankings of the world's most livable cities, and Osaka has earned an impressive 10th place. Osaka is the only Asian city that ranks in the top ten on the EIU's Global Liveability Index, receiving recognition for its dependable infrastructure, exceptional cultural and entertainment offerings, and outstanding education and healthcare services.
Osaka and Tokyo are the two cities that most people think of when it comes to traveling to Japan. They are the country's largest cities, located in the Kanto and Kansai regions, respectively, and are 500 kilometers apart. Many travelers struggle with deciding which city to visit. This article will compare the two cities in terms of their sightseeing spots, culture, food, and so on, to help you decide which one is a better fit for you!
Sightseeing Spots
Tokyo and Osaka are both very large cities with countless tourist attractions, including a vast array of shops, museums, parks, temples, shrines, skyscrapers, and more.
In comparison, Tokyo is larger and has more iconic landmarks, such as Tokyo Tower, Sensoji Temple, and Shibuya Crossing. There are also many nearby tourist destinations, such as Yokohama and Kamakura. Visually, there are few places in the world like Tokyo - it's a metropolis bathed in neon lights, with technology integrated throughout.
Osaka, on the other hand, is smaller than Tokyo but still has numerous attractions, including Dotonbori, Osaka Castle, Osaka Aquarium, Universal Studios Japan, Umeda Sky Building, and Minoh Park. However, Osaka can also serve as an excellent hub for visiting neighboring regions of Japan, such as Kyoto, Nara, and Hiroshima. Visually, while Osaka shares some similarities with Tokyo, its architecture, buildings, and streets have a more traditional flavor.
Cultural Heritage
In Tokyo, visitors can experience a blend of popular, geek, high-tech, and historical culture. Tokyo offers a high-tech lifestyle that merges the modern sensibilities of vibrant Harajuku fashion, maid cafes, cosplay, manga, and anime. You can also find many historical sights, such as temples and shrines, next to skyscrapers. In areas like Asakusa, you can see the history of this city, with many excellent museums, historic temples, and gardens to explore.
As one of the oldest cities in Japan, Osaka has a rich cultural heritage throughout the city. From historic landmarks like Osaka Castle to traditional festivals like the Tenjin Matsuri and the Kishiwada Danjiri Festival, there are plenty of opportunities to experience Japanese culture firsthand. Additionally, Osaka is known for its vibrant entertainment scene, with numerous theaters and music venues showcasing both traditional and modern performances.
Atmosphere and Lifestyle
Another difference between Tokyo and Osaka is their culture and lifestyle. Tokyo is known for being a fast-paced, cosmopolitan city with thriving nightlife and numerous cultural attractions, such as museums, art galleries, and theaters. People in Tokyo are generally more polite and reserved, and tend to keep a certain distance from others. However, it's important not to stereotype Tokyoites as "aloof." They are generally just more shy and introverted than people in Osaka.
In contrast, Osaka is often described as more laid-back and friendly, with a strong culinary culture and a focus on entertainment, such as comedy and theater performances. Osaka also has a smaller population than Tokyo, which means that even during peak tourism season, it won't be as crowded or overwhelming. In addition, people in Osaka are generally friendlier and more outgoing than those in Tokyo.
Food
Tokyo has a rich food culture dating back to the Edo period, with a particular love for sushi, ramen, and tempura. It is a city filled with classic Japanese cuisine, boasting numerous Michelin-starred restaurants and diverse top international cuisine. You can find international restaurants in Azabu, Hiroo, and Roppongi, casual eateries throughout Tokyo, and fine dining at the top of skyscrapers and large hotels.
Osaka is known as the food capital of Japan, or the "Tenka no Daidokoro" (the nation's kitchen). Its food culture is richer than any other region in Japan, often described as "kuidaore" (eat until you drop). Unlike Tokyo's bold flavors, Osakans prefer dishes that are mild, sweet, and salty. Osaka is famous for its local dishes and robust culinary culture, including takoyaki (octopus balls), okonomiyaki (savory pancakes), kushikatsu (deep-fried skewers), kitsune udon (noodles in broth with deep-fried tofu), and teppanyaki (grilled meat).
Both cities offer unique and authentic drinking cultures, with many nightlife and drinking places, including izakaya alleys and local bars.
Things to Do
Both Tokyo Disney Resort and Fuji-Q Highland, two of Japan's most popular theme parks, are easily accessible from the center of Tokyo. Hello Kitty fans may also want to visit Sanrio Puroland, which is only an hour away from the city by train. Ginza, Tokyo's famous shopping district, is a paradise for entertainment, with countless shops, arcades, and multiple exhibitions and theaters (Kabuki-za and Shinbashi Enbujo). For fans of pop culture and nijigen (ACG), Tokyo is the center of Japanese nijigen culture (otaku culture), especially in the Akihabara area of Chiyoda Ward. Akihabara is filled with places selling electronic games, DVDs and Blu-Ray discs of TV shows, anime, and manga, and is known for its unique fashion and maid cafes.
Osaka has its own nijigen center in Nipponbashi, which will surely satisfy your desire for pop culture. The city also has many amusement parks, including the famous Universal Studios Japan, Super Nintendo World, and ATC Mentai Park. Dotonbori, known as the "heart of Osaka," is another place that will captivate you. This lively street is lined with restaurants, bars, and shops, with the iconic Dotonbori Canal running parallel to it. In addition, Osaka has many shotengai (shopping arcade), including the longest shopping street in Japan, Tenjinbashi-suji Shotengai. These Shotengai are not like typical large malls found around the world, but rather retro backstreets where locals come to shop or stroll every day, making them a great place to taste typical local snacks, find special souvenirs, and experience the nearby atmosphere.