Shotengai Snack Box Subscription
Snack healthy, snack sustainably
Head to CHECKOUT and Revel in Secret Santa GIFT!
Free worldwide shipping
20+ Authentic Japanese snacks
Monthly curated box with new themes
Embrace Health and Sustainability
Support Japanese Family Business
Snack healthy, snack sustainably - The Shotengai difference
Sourced in Japan Locally, Delivered to Your Door Globally.
We make it a priority to source only the freshest, purest ingredients for our snacks, candies, and teas. Instead of relying on large industrial farms, we personally visit small, local farms across Japan to find the highest quality organic ingredients.
During production, we use only the minimal amounts of preservatives needed to maintain freshness and taste. Many of our products contain no artificial preservatives whatsoever. We believe in letting the wholesome flavors of our ingredients shine through.
Our packaging utilizes recycled, renewable, and biodegradable materials as much as possible to reduce waste. We avoid unnecessary plastics and only use simple, clean designs.
When you enjoy our box, you can feel good knowing your purchase supports sustainable farming, ethical production, and eco-friendly business practices in Japan. We take pride in bringing you great taste while caring for the planet.
Details:(click to read more)
Every Taste and Story, All in One Box
Open the box and discover what you'll find!
A selection of quality products and the stories of where they came from, carefully chosen and curated for you!
Beneficial for your health
Enjoy Your First Box-- Our Classic "Nishiki" Box
14 varieties of sweets and 3 types of tea in one.
The word 'Nishiki' refers to silk fabric woven with golden threads. By extension, it signifies something glamorous and special.
The inaugural Shotengai Snack Box lives up to this name, carefully curated with exquisite products from all over Japan. We've not only considered taste but also prioritized items that are gentle on the body and health. Through this box, we invite you to experience a healthy and eco-friendly Japanese lifestyle. After receiving your first box, future boxes will be monthly-themed boxes delivered straight to your door.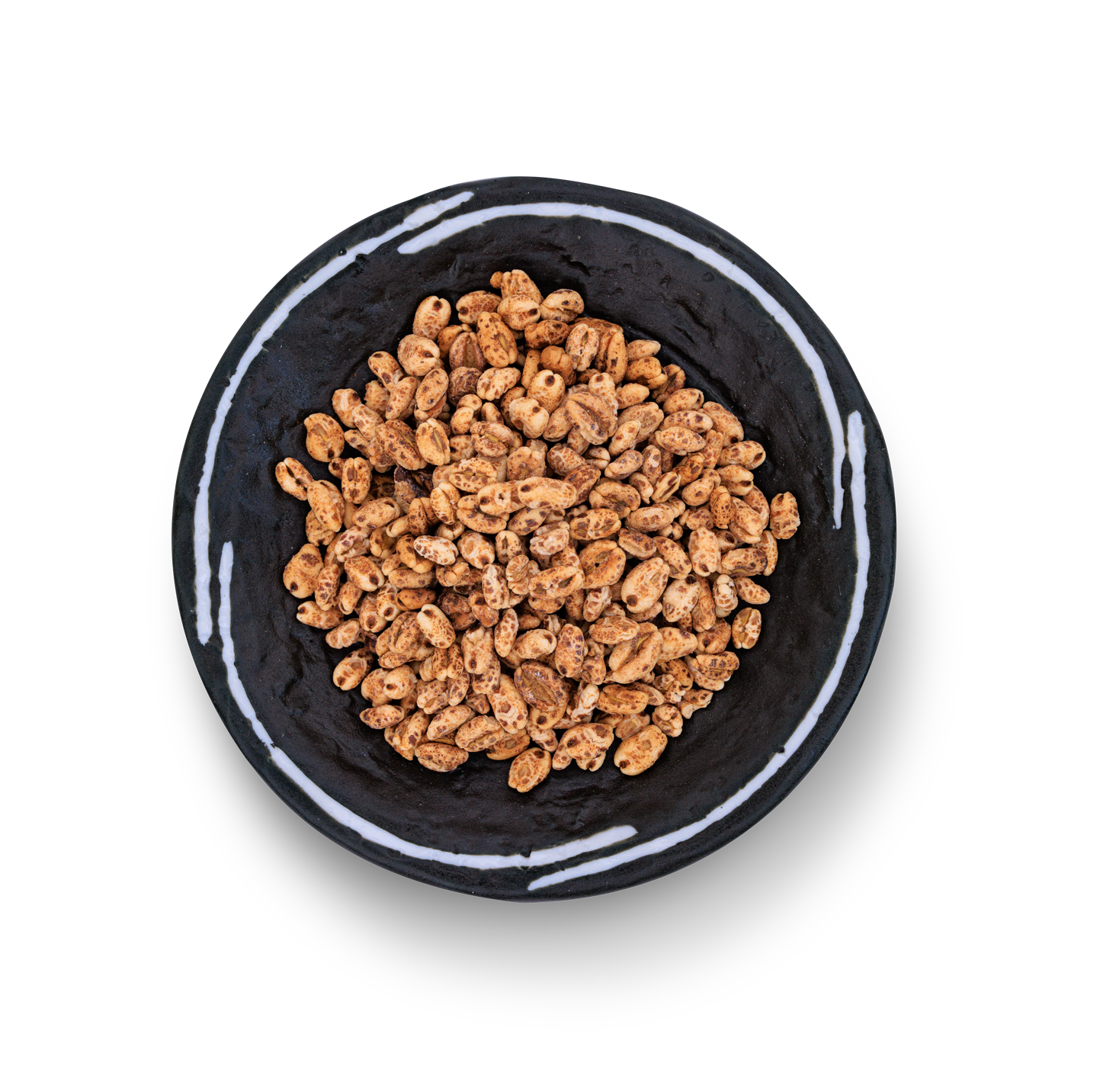 Mochipon
By Fukui Engei
Mochi Mugi is rich in dietary fiber and has a digestive benefit. The list of ingredients only includes Mochi Mugi and sugar. No seasonings, additives, or preservatives are used whatsoever. It's said that consuming it for breakfast can lead to a sustained diet effect throughout the day. You can enjoy it as a topping in various dishes.
__________
Common allergens: wheat
Vegan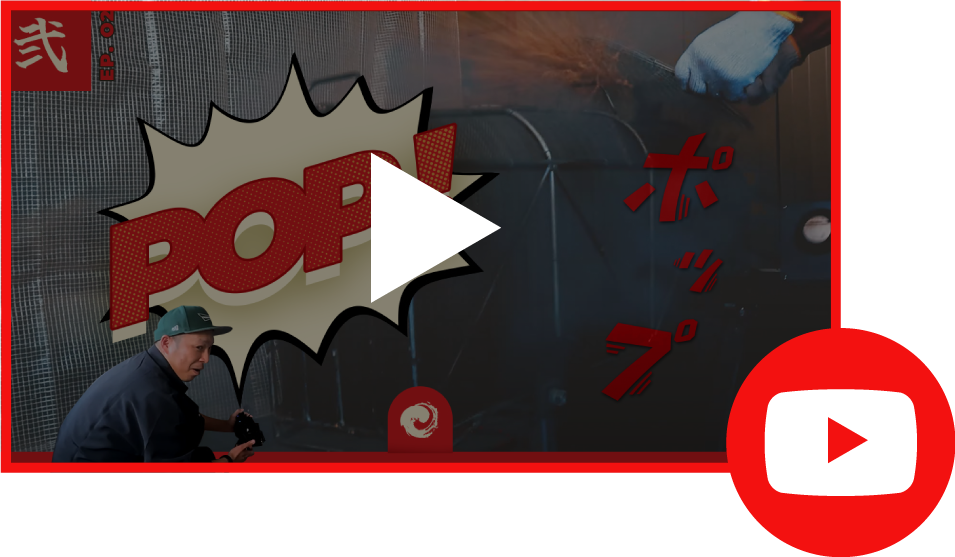 More details in a video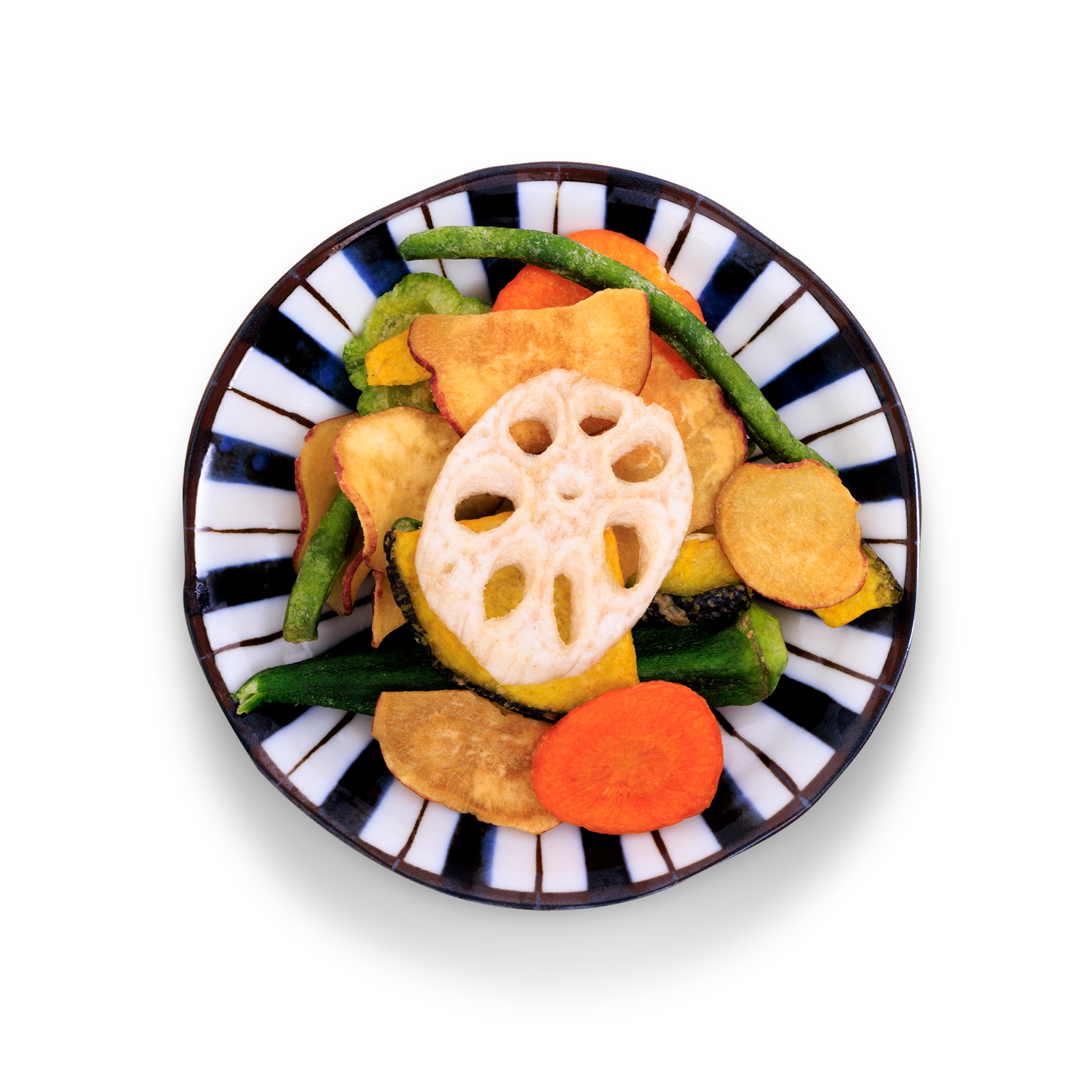 SaikaToridori
By TokunagaSeika
This snack contains 15 varieties of vegetable and fruit chips, including sweet potatoes, green beans, pumpkin, carrots, as well as apples, bananas, and more. The contents may vary depending on the season. It's perfect for those who intend to consume a variety of vegetables and fruits but tend to lean towards a few specific types. Tokunaga Seika is a confectionery manufacturer with a history spanning over 140 years.
________
Vegan
Also contains: soy
Hitokuchi Apple & Mango
By Minami-Shinshu Kashi Kobo
The Minami-Shinshu Kashi Kobo's factory is located in Achi Village, which is often referred to as the village closest to the starry sky in Japan. They use fruits that are typically discarded due to blemishes or irregular shapes as ingredients for their products. Hitokuchi Apple uses Fuji apples from Nagano Prefecture and their mangoes are sourced from Peru.
__________
Vegan

Yamagata Green Soybeans
By Kobe Nuts Yui
A green soybean refers to a type of soybean that remains green even when it has matured. It can only be grown in the Tohoku region and in Hokkaido in Japan. Green soybeans have lower fat content compared to regular soybeans and are rich in vitamins C and E, as well as iron, making them beneficial for beauty and skincare.
________
Common allergens: soy
Vegan
Kakogawa Snack Pasta
By Yahata Eino
Yahata Eino, located in Kakogawa City in Hyogo Prefecture, produces pasta using Seto Duure. This is a pure domestically-grown durum wheat that Yahata Eino successfully cultivated for the first time in Japan. During cultivation, they do not use the herbicide glyphosate, making it healthier for consumption. This snack version of pasta primarily utilizes the cut-off ends of pasta produced for packaging.
__________
Common allergens: wheat
Vegetarian

Black Shichimi Fried Ginkgo
By Penguin
This snack is found at Kyoto Station, which is frequented by a large number of foreign tourists. It features Gion Hararyokaku, which is black shichimi, which has been produced in Kyoto for over 300 years. While shichimi typically has a red color, the one from hararyokaku turns black because the ingredients are finely ground.
________
Common allergens: soy, sesame, wheat
Also contains: ginkgo
Matcha Cream Senbei
By Seki-Seika Hompo
Seki-Seika Hompo is a Kyoto-based confectionery shop with a history spanning over 100 years. One of their most popular treats is this matcha cream senbei. It features a rich matcha cream, created without the use of any artificial flavors or colors, sandwiched between crunchy wafers made from rice.
__________
Common allergens: egg, wheat, milk, soy
Vegetarian
Also contains: honey
Toraya-Yoshisuye
By Toraya-Yoshisuye
"4-1-1Mikage Hommachi, Kobe, Hyogo"
Toraya-Yoshisue was founded in 1801. Originally, the company was a manufacturer of sake barrels. However, they came up with the idea of creating senbei shaped like sake barrels to serve as souvenirs for travelers. These senbei featured the trademarks of 18 sake breweries in Kobe as part of their design.
________
Common allergens: egg, wheat
Vegetarian
Ichigo Milk Mame
By Tokunaga Seika
In addition to their Saika Toridori, Tokunaga Seika presently offers a diverse range of bean confections, totaling around 60 different varieties. Their Ichigo Milk Mame (strawberry milk beans) stand out as their number one favorite.
________
Common allergens: wheat, milk, peanuts, soy
Vegetarian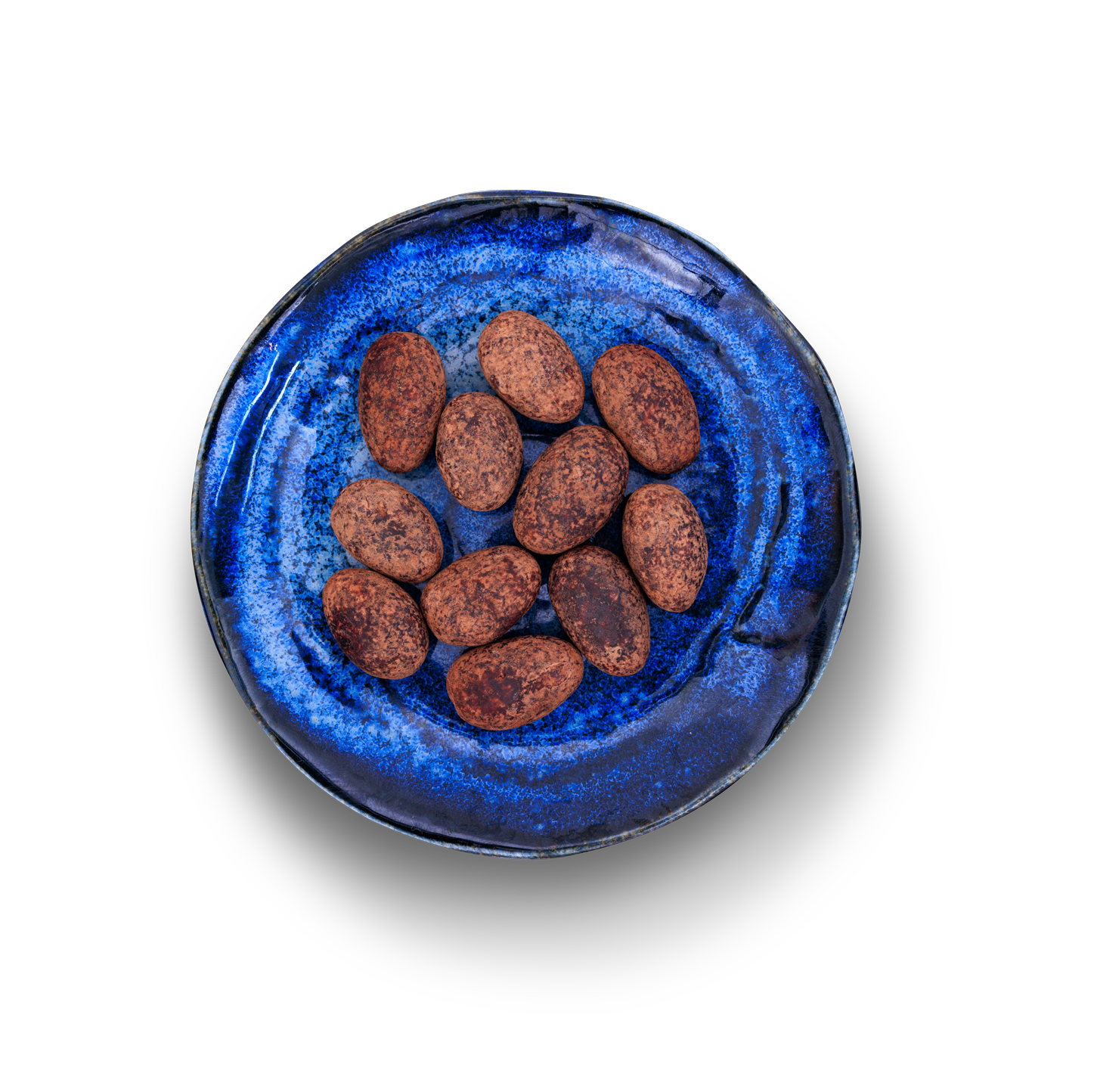 Tiramisu Almonds & Black Sesame Almonds
By Kobe Nuts Yui
Carefully selected large almonds are coated with sweet and fragrant tiramisu chocolate.
They pair perfectly with a hint of bitter cocoa powder. Despite their appearance resembling dinosaur eggs, these black sesame-flavored chocolate almonds have a gentle yet delightful taste.
__________
Common allergens: milk, sesame
Also contains: almonds
Gluten-Free Cut Baum
By NEVERS
In this baumkuchen, Japanese-grown Yamadanishiki rice is used instead of wheat flour. It has a moister and chewier texture compared to baumkuchen made with wheat flour. And, of course, it's gluten free. The factory is located in a naturally rich area called Kai-gun in Gifu Prefecture. It's a confectionery created with clean water and air.
________
Common allergens: egg, milk, soy
Vegetarian
Also contains: almonds
Boules de Neige (soybean flour flavor)
By le mauve
"3-15,Hamada-cho,Koushien,Hyogo"
Boules de neige, a relatively common French pastry, is prepared by sprinkling it with kinako powder, a popular seasoning used in Japanese confectionery. At le mauve, they have implemented a system of employment support to aid the social inclusion of individuals with disabilities. These boules de neige snacks are meticulously handmade by individuals with disabilities, which helps them to be able to actively participate in society.
________
Common allergens: egg, flour, wheat
Vegetarian
Also contains: almonds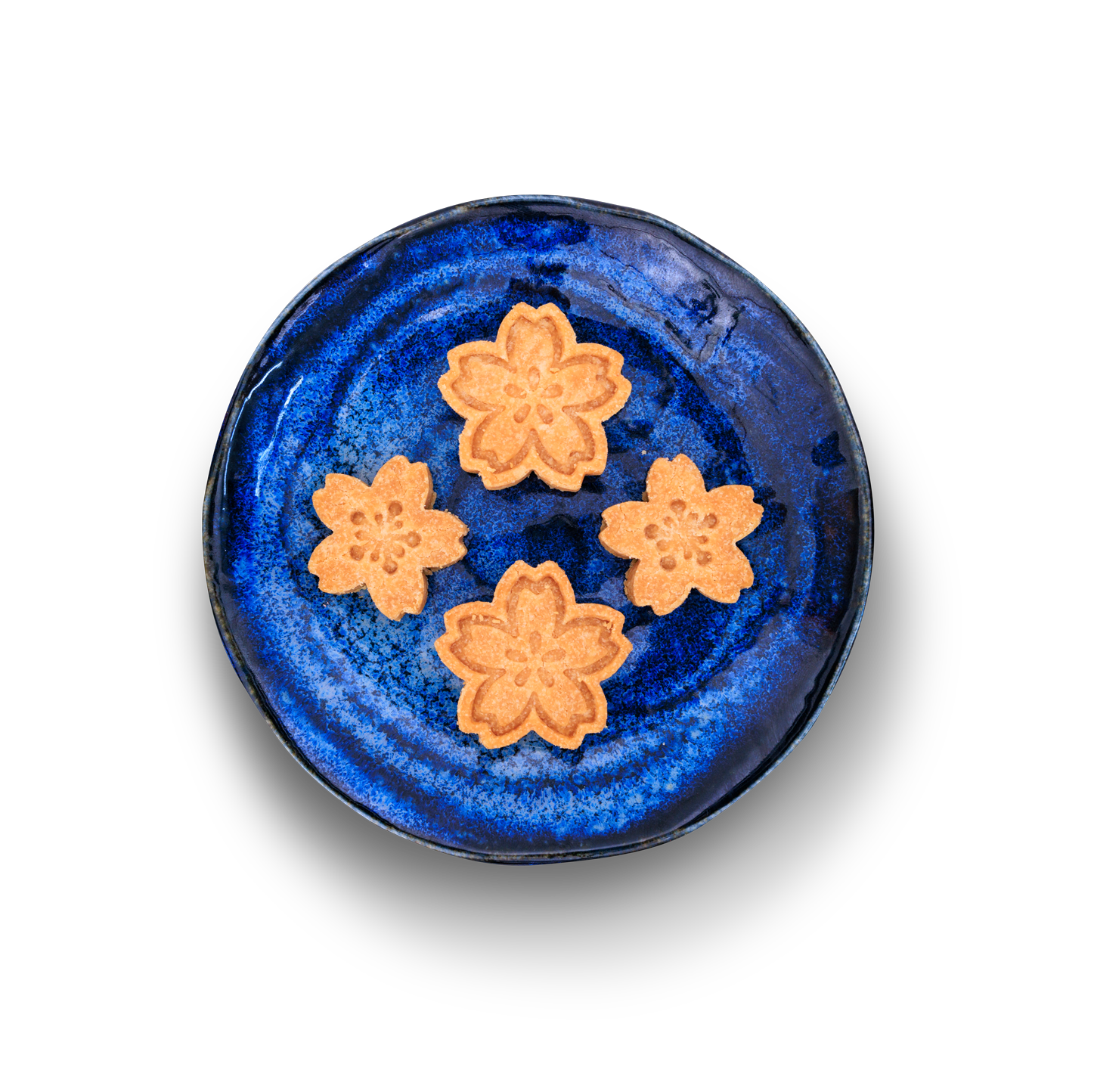 Okara & Rice Sablé
By A&A
Okara is the leftover part after squeezing soy milk from soybeans during tofu production. It's rich in the flavors of soy, as well as protein and dietary fiber, making it a nutritious and healthy food. Additionally, this sablé uses rice flour instead of wheat flour, making it naturally gluten free.
________
Common allergens: soy
Vegan

Black Bean Tea & Horsetail Tea
By Mugen∞Yasou
Black soybean tea uses cracked beans, which would have been discarded despite having no issues in its quality. These beans simply crack naturally during the roasting process. We can take advantage of their unique flavor and health benefits. Similarly, Mugen∞Yasou's horsetail tea is made from wild horsetail, a plant that was once considered a nuisance and commonly weeded and burned.
__________
Common allergens: soy
Vegan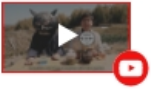 More details in a video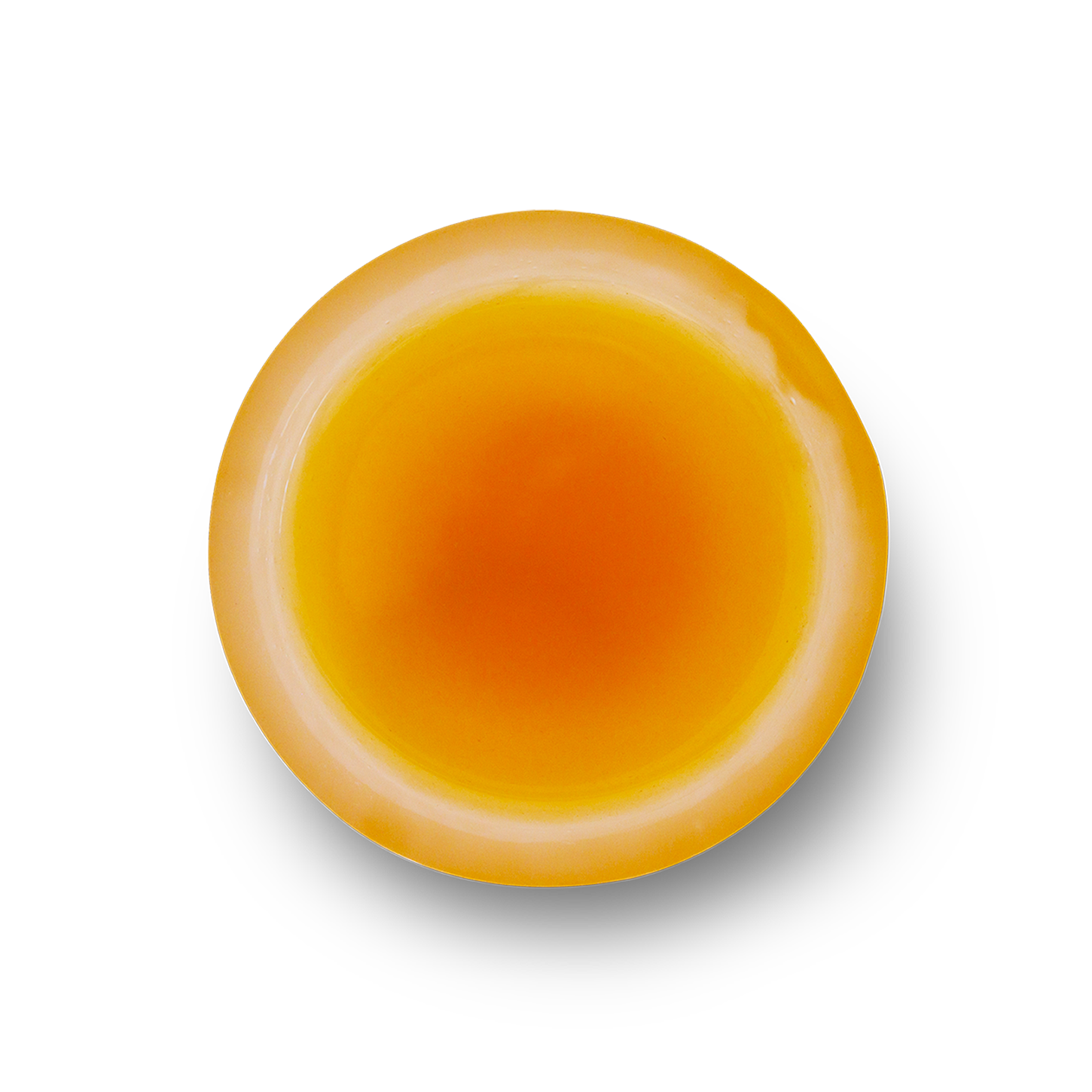 Hinoakane Japanese Tea
By AZUMA CHEMICAL CO.,LTD
This is a green tea made using Sun Rouge tea leaves from Tokunoshima Island in Kagoshima Prefecture. It contains catechins (epigallocatechin gallate), flavonols, and other polyphenols, as well as anthocyanins. It also has the potential to help control post-meal blood sugar spikes. When lemon juice is added, it changes to a reddish color.
__________
Vegan

Our articles That You Might Like
We have hand-picked these articles for you because we think you will find them interesting and informative.
Labor Thanksgiving Day, Japanese Way
The Upcoming Box - November Inori Box
On this Labor Thanksgiving Day, taste the spirit of Japan's 'Niiname-sai' tradition with our Inori Box - and join us in grateful celebration of nature's bounty and the fruits of human labor.